Product Information
Product code:

SB-330A
Categories: Air Deck Floor Sport Boats, Sport Boats
$1,949.99
USA Delivered Price | Free Shipping
Inflatable Sport Boat's Swordfish 10.8′ air floor model dinghy is the first Inflatable Sport Boat model to have EVA foam teak decking installed on the air floor. The foam teak floor gives you added protection, stability, grip, and comfort. The swordfish dinghy is our largest air floor dinghy. Handles 5 people and up to a 15 HP motor.
Have Questions?
Social
Description
Description
Dinghy Features
The sleek white contoured design was created by nautical engineers for rear buoyancy and faster planing at takeoff. "Easy Planing" extended rear pontoons and transom area allows for more maximum weight and larger motors with balanced stability. All seams are HEAT WELDED and guaranteed to last in fresh water, salt water and extreme humidity. Eliminating the use of problematic glue and nose cones. Incredibly portable and easy to assemble or dissemble in 10 minutes.
Drop stitch high-pressure air deck floor with EVA foam teak decking installed. Thick PVC designed to hold 8 PSI and gets rock hard providing a stable boat floor. The thick .9 mm, 1100 denier reinforced PVC material is UV, oil stain, and puncture restraint. White material protects against the suns heat, faded material and compares to heavy duty material used for white water river rafts.
Product ships COMPLETE. Includes: 1 aluminum bench seats / removable seat cushion and bag ($80 value) / 2 aluminum oars with lock-in holders / carry & storage bag / foot pump / 2 repair patches / one way drain plug / 1 front + 4 rear exterior heavy duty carrying handles / 2 front towing D-rings. SPECIAL: comes with preinstalled EVA foam teak decking on one side of the air floor. The air floor is reversible and has 2 valves. 
USCG approved. Manufacturer Certification of Origin for boat registration is included in manual and 3 year manufacturer limited warranty. Designed in California, U.S.A based company.
Dimensions: Model: SB-330A – Swordfish 10.8′ Air Floor. Length: 10 ft 8 in. Tube diameter: 18 in, Inflated width: 5 ft 3 in, Chambers: 3 + 1 keel + 1 air floor, Max Power: 15HP, Max Load: 1268 lbs, Max Persons: 5. Inflatable Keel and V Hull. Deflated boat in bag for storage: 80 lbs; 44 x 24 x 11 inches.
Inflatable Floor Sport Boat – Model Dimensions
Model:

SB-330A – Swordfish 10.8′  EVA 2-N-1 Air Floor

Length: 10

 ft

8 in

Tube diameter: 18 in

Inflated width: 5

ft 3 in

Chambers: 3 + 1 Keel + 1 Air Floor
Max Power

:

15 HP

Load: 1268 lbs

Max Persons: 5

Interior air floor dimensions: 84″ length x 30″ width. (Air floor 4″ bow hole. Located 7″ from the front of the hole to bow tip of air floor)

Boat deflated in carry bag for storage: 80 lbs; 44 x 24 x 11 inches.

Aluminum accessories: 2 Oars – 6 lbs; One bench seat – 4 lbs.

Box dimensions: 130 lbs; 47 x 24 x 15 inches.
Inflatable Sport Boats Mission
Inflatable Sport boats have a multifaceted purpose in both fresh and saltwater environments around the world. These inflatable dinghy tender sport boats are built tough for rough ocean water, emergency situations, tendering, fishing, or even on a calm pond. Regardless of how you use your dinghy, you can rely on the quality and durability of your Inflatable Sport Boat. We stand behind the quality of our Sport Boats and guarantee our 3 year warranty.
Inflatable Dinghy – Industry Leading Specs
Inflatable Sport Boat's are your "All Sport Dinghy" designed by nautical experts for optimal performance and durability. Providing the industry's best specs for all inflatable tender dinghy sport boats. Industry leading: Larger diameter tubes, "Easy Planing" extended 30″ rear pontoons, reinforced transom, entirely welded seams and 9 mm 1100 denier thick PVC material with no problematic nose cones. The intention is to eliminate the problematic areas on dinghies; glued material, transom, and nose cones. Your Inflatable Sport Boat will provide you with multiple years of use.
Inflatable Sport Boats can be propelled manually or motorized. Compatible with either 2 or 4 stroke motors; 15″ short shaft outboards (recommended) and 20″ long shaft. All Inflatable Sport Boats have been USCG rated and approved. In addition, all boats are registered and include the proper paperwork for boat registration in owners manual. Each boat has it's own unique HIN number for registration and warranty purposes.
Tags: inflatable sport boat, inflatable boat, inflatable dinghy, inflatable zodiac boat, portable boat, yacht tender, inflatable tender, sail boat tender, yacht dinghy, dinghy boat, inflatable fishing boat, fishing boat, fishing dinghy, inflatable floor boat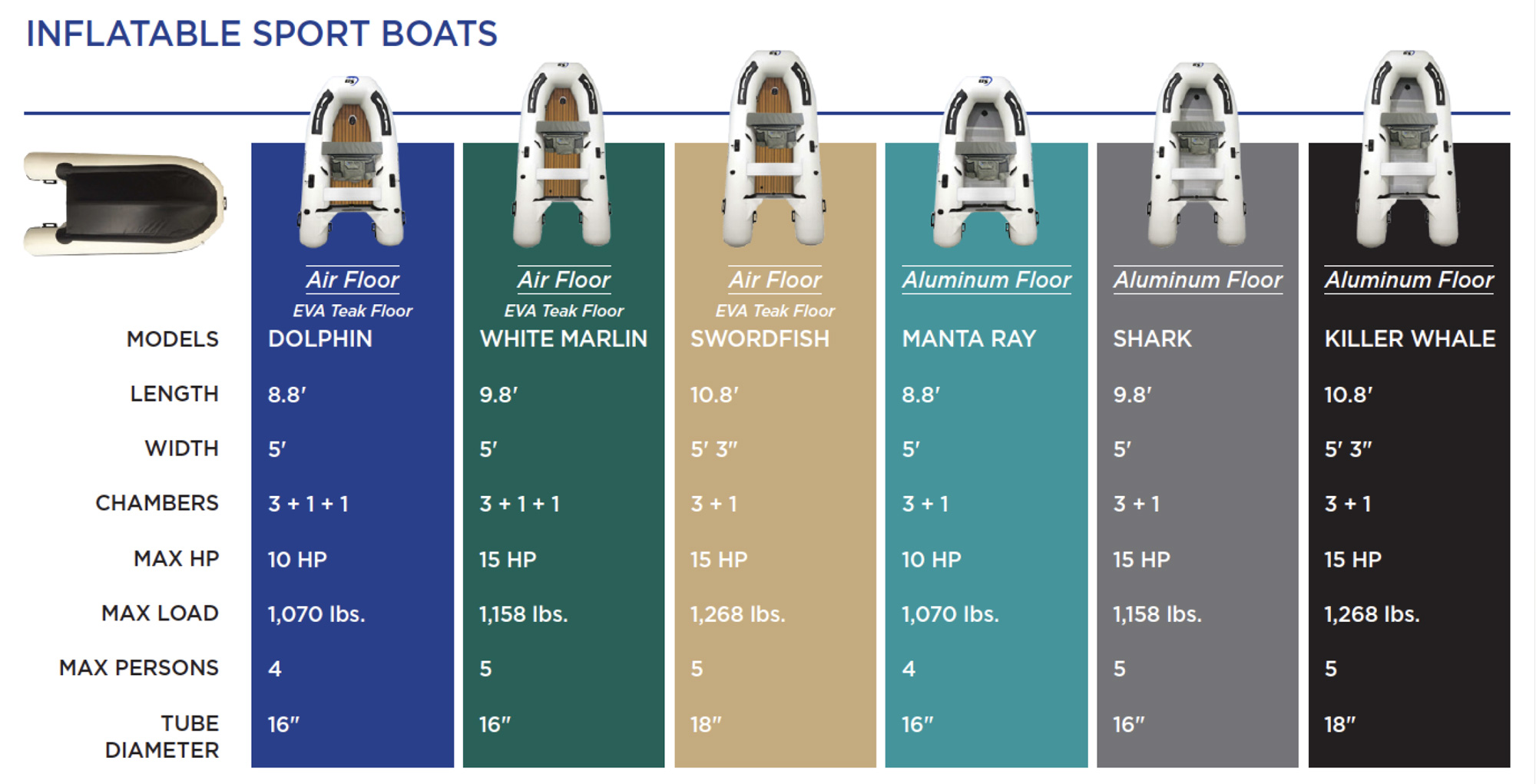 More Info
Additional information
| | |
| --- | --- |
| Weight | 130 lbs |
| Dimensions | 47 × 24 × 15 in |
Reviews (3)
Prop 65
⚠️ Warning: This product is made of PVC and can expose you to chemicals including Di(2 – ethylhexyl)phthalate (DEHP) which are known to the State of California to cause cancer and birth defects or other reproductive harm. For more information go to www.P65Warnings.ca.gov .